Wednesday 13 August, 2003
"Another paperwork day"
Today was a fairly low-key day. Noah and I stayed in the hotel, which was nice since it was raining. Rich left about noon to go with Katya to pick up Noah's Russian passport (his passport picture is so cute). He was gone all afternoon! Traffic was bad and they had to wait at the passport office. He stopped on his way backto pick up more baby food and dinner for us from Subway . Rich is feeling very brave about being out on his own and getting what we need!
Noah is doing great! He eats well and we are getting better at figuring out what he wants. If we keep his top end fed and his bottom end dry he is a very happy baby!
It was good for me to have some time alone this afternoon with Noah. While he napped in the afternoon I had a little time to myself to start mourning Grandma. It still feels like a bad dream.
Thursday 14 August, 2003
"Almost a citizen!"
Today we go to the American consulate to get Noah's US Visa. Whoohooo!!
Katya went to the embassy in the morning to drop off our paperwork and get our appointment scheduled. She dropped off our papers at the hotel afterwards and told us Nadia would pick us up at 1:30pm for a 2pm appointment.
We were both excited to go to the consulate! We had to go through security of course but it was great to be talking with English speaking guards. One even had a southern accent! We headed up to the second floor and dropped off our paperwork at window seven as instructed. Then we waited with several other US couples and their new children.
We didn't have to wait long but occupied ourselves talking with other couples. It's always nice to talk with other new parents going through this. Noah was definitely the best looking baby there!
When it was our turn the gentleman who processed our paperwork called for "The Needleman family." I think those are just about the three greatest words I have ever heard. I started to cry! It was the first time someone had called us a family! I wonder how long it will take me to get used to that.
It took about 10 minutes to get through the "official" interview. We had to raise our right hands and swear to tell the truth. Rich was asked several questions and we double-checked the spelling and dates on Noah's Visa. Then we signed a few papers and we handed Noah's official packet to give to the INS officials at JFK, as well as extra copies incase we needed them going through passport control at the airport in Moscow.
That was it!! We were out of there in about half an hour. As soon as we step foot on US soil Noah will be an American citizen! We took some pictures outside the consulate. The building itself wasn't very impressive, but what happened in there was!
Before dinner we met with Katya and Alyona for the last time. They called from the lobby for Rich to come down. He went down and then called me in the room. They had a camera crew there that wanted to interview us for one of the Russian news stations. Apparently a woman had tried to sell her baby in a train station, which was getting some very bad press. They wanted to show another side of international adoption so they contacted Dr. Belova. She thought of Noah and must have contacted Alyona and set it up.
We brought them up to the fourth floor lounge so they could see all the families. It was fun. They filmed Noah sitting in my lap, and then they asked Rich and I several questions. They were hoping to get it on the 11pm news.
After the filming we sat down with Alyona and Katya and they gave us the last bits of paperwork and a beautiful present. It is a handmade metal tree in a glass case. It represents our new family tree, and the growth of our family. We are so happy with how things have gone with the two of them. They could not have been more helpful this week!
After our experience as 'celebrities' we went to Patio Pizza with about 5 other US couples and their new kids. It was so HOT in there! I was very uncomfortable and Noah was getting pretty fussy. I ended up walking back with another couple whose little girl was having a meltdown. It was good to get out of there! Noah and I had dinner in our room. Rich brought us ice cream when he got back. Noah has his first taste of ice cream and his first food from a spoon! He liked it! He's my boy!
Friday 15 August, 2003
"A day at the park"
We are done with all our official stuff so today is a 'relax and get ready to go home' day. We chilled in the room and then went for a walk in the afternoon. We had lunch at Patio Pizza and then walked down to a park. Noah loves being in the Baby Bjorn and we had lots of smiles from people along the walk.
Tonight we went to Rich's friend Valentina's for dinner. Her friend Julie picked us up with Valentina's husband Vadim. She served a great dinner with lots of Russian salads and Vienna sausages and potatos. She had lots of goodies for dessert too.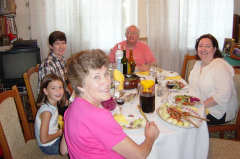 Dinner at Valentina's
Valentina has been very supportive of us this week. She has called several times to make sure we are ok. We really enjoyed our dinner with her family. Valentina and Vadim's granddaughter Janey was visiting them from America. She's a very bright little girl who is quickly picking up Russian.
We left a little after 10pm as Noah was getting fussy. Julie and Vadim took us back to our Hotel and we got ready for our last night in Moscow!
Saturday
Going home!!!!!
Today we are going home!! We can't wait!
After breakfast we packed. I had most of the souvenirs bubble wrapped and in boxes already. At least we are going home one duffle bag lighter than we came.
Rich checked with the hotel desk to ask if they would check on our flight. With the blackouts that happened on the east coast of the US this week we were a bit concerned about flight delays. They checked and told us everything was on time.
Nadia picked us up at 12:30pm and we left Moscow City for the last time. It was a great feeling to know that this was our last trip in Moscow traffic. I kept holding my breath that we would make it to the airport and actually leave the country with out being in a car accident.
We arrived at the airport to find out that our flight, which was supposed to leave at 4:15pm, was delayed until 11pm. This would have us arriving at JFK about 2am. Not what we wanted to hear at all! Nadia and Rich checked with Aeroflot customer service and they agreed to put us up in the airport hotel for the day (having a baby with us sure did help). We had to put our luggage in storage then stand in line to get the voucher for the hotel. Nadia pushed us to the front of the line (again – Baby Noah sure did help move things along). We pissed off some English girls in the process though!
Finally we got to the Novotel and checked in to our room. We also had a voucher for lunch so we went to the dining room to eat. The meal left much to be desired, as did the service. I really just wanted to get on the plane and go home! After lunch we stopped at the front desk and saw that the flight was delayed again – this time until 4am! Rich was getting antsy so he took the shuttle back to the airport to find out what was going on while Noah napped and I watched the Hallmark channel. We still aren't sure exactly why they had to delay the flight again, but we think it had to do with the terminals at JFK closing during the night so we couldn't leave until we would get in to JFK after 6am.
Thank goodness we were able to wait it out in a hotel room. Having to wait at the airport would have been unbearable! We ordered room service for dinner and watched some corny movies on the Hallmark channel. At 1am we woke up Noah (poor little guy) and headed back to the airport.
Because we had to declare all the money we were carrying when we arrived, we went through the 'items to declare' line at customs. The guard tried to tell us we couldn't, but I insisted that we would. We were the only ones in that line, versus a very long line at the nothing to declare area. Finally the guard let us through, but then he told us they were not checking our flight in yet. He wanted us to go back out in the waiting area. There was no way I was going to go back out there and have to wait in line again to get through customs. I told him we would just sit right there and wait. Rich (whose backbone was getting stronger by the minute on this trip!! I'm so proud of him!!) went up to the ticket counter and spoke with them and kept pointing to Noah. They were great and let us check in! It took about 15 minutes and the agent looked very carefully at Noah's paperwork, but they ticketed us and gave us a pass for the VIP lounge. We had to go through an x-ray machine and they were going to pull me aside to check my bag, but the guy who checked us in (I think he was in charge) told them to let us go. Poor Noah was so tired, but he was being so good!
We went through passport control with no problems and headed for the VIP lounge. There we found it was locked! We rang the doorbell and a cleaning woman came to the door. She spoke no English, but we managed to pull the baby sympathy card again and she let us in. We made up a little bed for Noah and he fell asleep. He was able to sleep for about an hour and we had to wake him up again and head for the gate. We waited in line for about half an hour until we went through security again. This time my bag was searched (what is it with this carry on bag of mine!!) but I was carrying Noah in the Baby Bjorn and they didn't give me much of a hassle. Thank goodness for the Baby Bjorn! It was a lifesaver for this trip, and great for Noah to be able to snuggle up close to me.
Now we were finally in the gate. We sat down near the check-in area and waited…and waited…and waited. By this time poor Noah was getting fussy…poor little guy. It was 4am and all he wanted to do was sleep. All Rich and I wanted to do was sleep! The time to board came and went and we were still waiting. Finally around 4:30am we started to see some activity and people were getting in line, so we got in line too. And we waited…and we waited…while we watched the Aeroflot agents smoke their cigarettes and gossip. Not quite the level of customer service we are accustomed too.
Finally we were able to board the plane and were directed to the business class seats. We were able to get bulkhead seats and had a very nice attendant. She told us she would have a bassinet for us after we took off. The seats were very comfortable and there was tons of legroom! We each had our own TV screen and foot rests. Business class rules! We even had menus to choose our meals from. Rich ordered one of everything and then told me what to order. I was so tired (believe it or not) I didn't even want to eat. It was also the dinner menu and just didn't seem that appetizing to me at 5am.
I gave Noah a bottle while we took off and he did great. After take off they brought the bassinet and Noah fell right asleep. He looked so cute in that little bassinet. He woke up every couple hours and we fed or changed him. He did so well during the flight! He got a little fussy about the last hour of the flight, so Rich walked with him and he calmed down. All in all, it was not a bad flight. Noah did so much better than we had even hoped and we were actually comfortable in our seats. It was still a long flight, but it sure felt good to know we were going to be home soon!
Finally we arrived at JFK and were able to step on US soil! Yeah!! We headed to immigration and handed over our official envelope of papers for Noah. They were so nice and it felt so good to be back in the US! Noah is officially a US citizen!!!
Next we had to get our luggage. You do know what happens when you are first in line with your luggage to check in don't you…it means it's the first on the plane…and the last to come off. So yes, we were the last ones to get our luggage. Finally we had everything, we walked right through customs and were able to head out to the terminal. I saw Mom and Dad right away. Rich and I were each pushing a luggage cart and I had Noah in the Baby Bjorn. Mom started coming to us and I stopped in the middle of everything and we both started crying as I introduced her to Noah. People around us were crying. I'm crying as I write this!!! It was so wonderful!! We scared poor Noah and he started to cry, poor little thing. He calmed down though and we were able to go to the car so we could really be on our way home.


Finally we were almost home! Noah did great in the car seat and fell asleep on the drive. The drive seemed to take a long time, but we were busy telling Mom and Dad about everything.
We arrived at our house to find Welcome Home signs up. It felt so good to walk in to our own house with our SON!
Enter content here